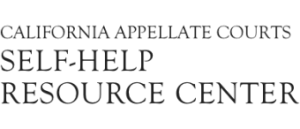 California Appeals Process - Plain and Simple
This guide can help you understand what happens when a party who loses in the superior or trial court appeals the decision.
Here you can learn about every step of an appeal and find general information about the requirements for all parties. This includes the basic rules and fees, plus important forms and deadlines.
---
More Resources Provided by Second Appellate District
For Attorneys and Self-Represented Litigants
For Self-Represented Litigants
Self-represented litigants that take advantage of these resources generally feel more comfortable vis-a-vis the appellate process by knowing ahead of time what to expect.
Appointments
Public Counsel's Appellate Clinic For Self-Represented Litigants provides general legal information and procedural assistance to people who are representing themselves in appeals pending in the Second District Court of Appeal and the Appellate Division of any Superior Court within the Second District.
The Appellate Clinic for Self-Represented Litigants is open every week on Tuesday, Wednesday, and Thursday. Clinic consultations are scheduled by appointment only between the hours of 9:00 a.m. and 3:30 p.m. Consultations are available in person, via video conference, or by telephone, as appropriate.
Appointments for the Appellate Clinic For Self-Represented Litigants can be requested by calling (213) 830-7232 on Tuesdays beginning at 8:00 a.m. and continuing until all available appointments have been filled--almost always before noon. Appointments are for the following Tuesday, Wednesday or Thursday.
Clinic staff will notify successful and wait-listed callers by telephone or e-mail, usually by close of business on Friday. Callers who do not receive an appointment confirmation or wait-list notification by close of business on the Monday after their call do not have an appointment and will not be admitted to the Clinic; however, they are encouraged to call again.
Clinic location:
Court of Appeal, Second Appellate District
Ronald Reagan State Building
300 S. Spring Street
2nd Floor, North Tower
Los Angeles, CA 90013
rev. 9-26-22